12 DAYS OF CHRISTMAS GIVEAWAYS
Christmas shopping just got a little more exciting with our 12 days of Christmas Giveaways!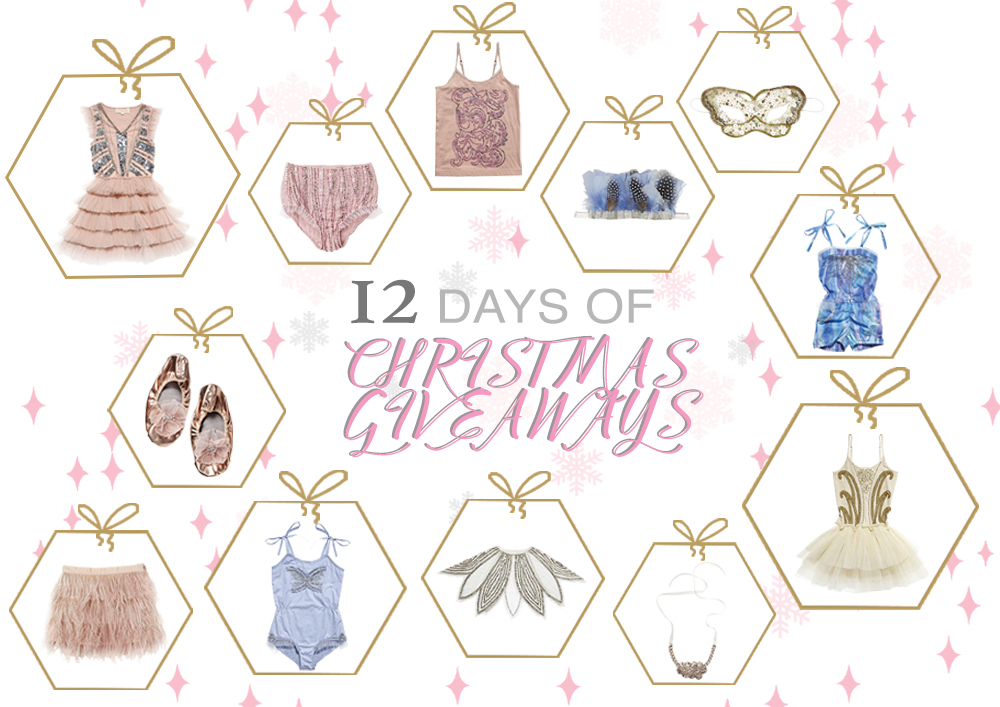 12 DAYS OF CHRISTMAS GIVEAWAYS
We are so thrilled to be launching an exciting online offer in the spirit of festive cheer, our 12 days of Christmas giveaways!
To enter simply place an order online between the 3rd of December and the 14th of December to go in the draw to win one of our twelve daily prizes! Each day* one winner will be drawn and will receive an extra special prize included with their order!
There are twelve wonderful prizes on offer including: Dazzle Me Pretty Tutu Dress in Blush RRP $179, Up High Sequin Shorts in Wisteria RRP $109, Galaxy Top in Blush RRP $79, Glory Feather Headband in Hydrangea RRP $42, Butterfly Mask in Gold RRP $59, Charmed Encounter Feather Skirt in Milkshake RRP $179, Golden Apple Tutu Dress in Coconut RRP $169, Of The Skies Necklace in Silver RRP $109, Miss Marbles Starstruck Onesie RRP $152, Ethereal Cape in Coconut/Gold RRP $135, Little Drummer Girl Onesie in Hydrangea RRP $155 and Footprints Ballet Flats in Rose Gold RRP $89.
The daily prizes will be a secret; you'll just need to be in it to win!
Good luck!
Terms and Conditions*:
Winners will be drawn each day at random
Competition will run from the 3rd of December to the 14th of December AEST
Prizes are subject to stock availability; size selection will be based on the sizing of items in the order
We are not able to accept requests for change of size, colour or style
To be eligible customers must place an order during the competition period. If the full order is returned the customer is not eligible for entry and will need to return the prize in addition to any items ordered
Andrea and the Tutu team