A SPOOK-TACULAR SOIREE FOR HALLOWEEN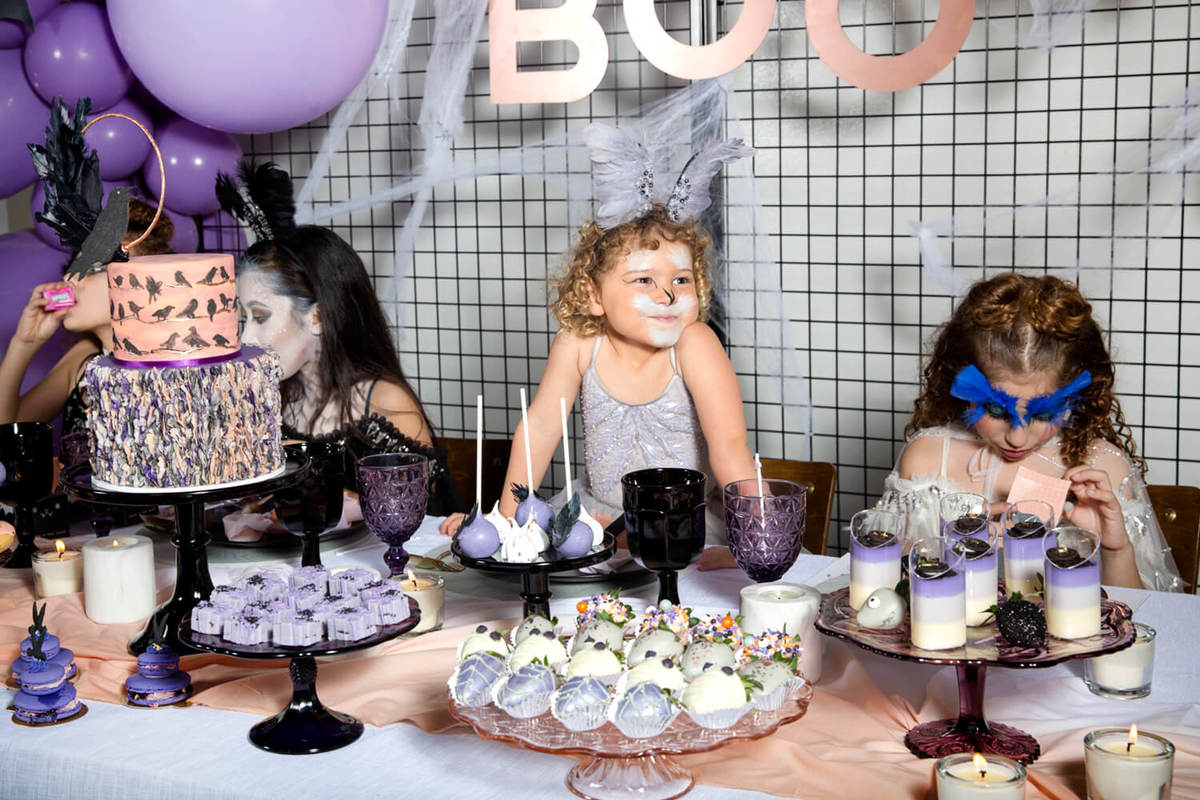 This Halloween, we created a spooky yet beautiful kids soiree fit for the queens and princesses of the Halloween birds. Everyone attended, from the Crow, to the Ravens, to the White Owl and yes, the Bat too.
An extension to our Halloween Collection this year, There's Something In The Woods, blacks and whites dominate while we introduce beautiful traditional Halloween colours in a softer tone of Lavender, Grape, Pumpkin Spice and Ghoulish Grey through the decor and the decadent desserts.
The entrance to the bird cave was framed with a gorgeous balloon arch but alas, came with a warning. And while our Ravens and Crows dared to enter, they sure were glad they did, as an opulent tablescape greeted all their senses...the lights! The desserts! The never-ending treats and that witchy bubbly drink! The birds feasted and laughed and played tricks on each other til they could feast and laugh and trick no more, and as the evening concluded, they hung up their beautiful gowns and capes and flew into the dark of the night and back to their nests.
And on this note, we would like to say Happy Halloween from the Tutu du Monde team. May you get all the treats and none of the tricks this year!
Many thanks to:
Concept, styling, set-up, paperie: @paperplayground
Styling, set-up: @somethingwhiteevents
Photography: @tarrenphotography
Desserts provided by: @scarletjadeaustin, @opal.rains, @lapetitepops, @dous_dolce, @sweets_withlove, @dessertsbyjoey
Venue: @butchersdaughterau
Backdrop & trolley: @thetreasureroom_
Balloons: @floating.designs
Make-up Artist: @lsfx_mua
Flowers: @sydneyeventstylists
Signage & drink stirrers: @communicakeit
Candles: @kerti_au