BTS - HOLIDAY '17 JEWELS OF THE PALISADES SHOOT
ADVENTURES WITHIN THE VILLA LEON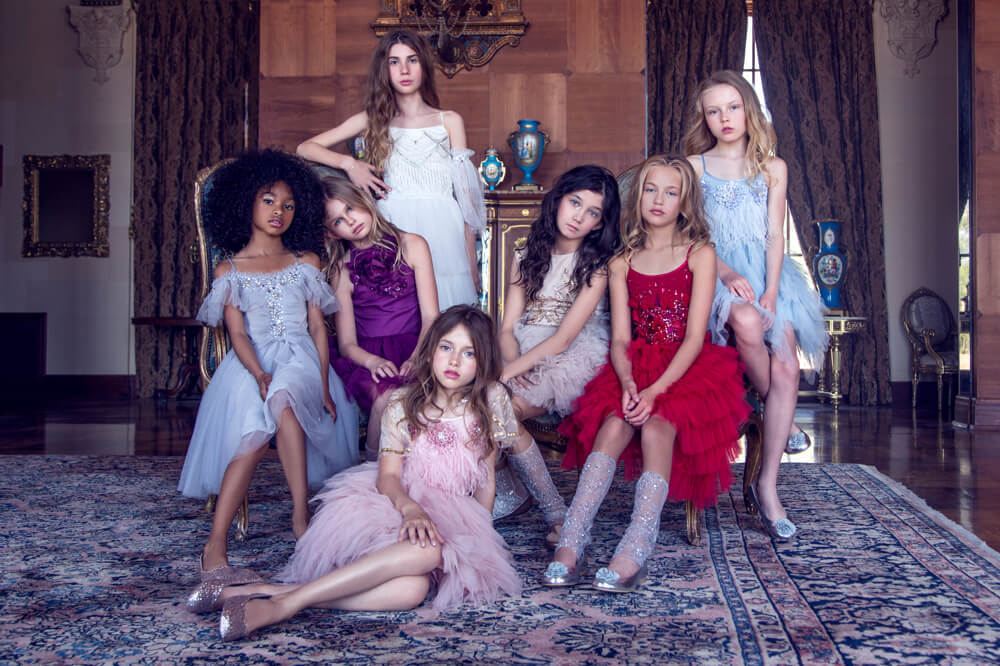 In late April, the Tutu du Monde team was lucky enough to secure a shoot day in the very grand Villa Leon situated along the Pacific Coast between Santa Monica and Malibu.
It's hard to imagine a more suitable location for our Holiday collection which traditionally reflects the opulence of the festive holiday season. Rich hues such as holly, mulberry, gingerbread with hints of golds sit alongside the signature powder blues, pink and silver greys. Commanding a high eminence above the breakers of the Pacific Ocean, the Villa Leon has been a landmark ever since its completion some eighty-five years ago.
Of course such a jewel wouldn't be short of a romantic story. Named after its original builder Leon Kauffman, the villa was the result of a longstanding promise Kauffman had made to his wife Clemence that, if he ever had the money, he would build her a dream castle by the sea…
A fortune made in the wool business in California during the First World War allowed Kauffman to make good on his promise and began construction of his dream house in 1926. But like with all good stories, tragedy followed…

The Kauffmans were to enjoy their fabulous seaside villa for but a few short years, with Clemence dying in 1933 followed by her husband just two years later. For nearly twenty years, the grand villa and its numerous art treasures sat unoccupied, save for the solitary caretaker who roamed the marble halls accompanied only by his pet dog…
And you guessed it, a gang of girls roamed the house in between shots exploring every corner of it and to this date my daughter is 100% convinced that they encountered ghosts in the attic. A very fine attic I may add, one that stores amazing vintage couture collections worthy of a queen.
We felt incredibly fortunate to enjoy these stunning surroundings for a day and what felt like time travel into another era altogether. Despite a long shoot day, everyone involved enjoyed this exceptional experience.
Andrea & the TDM team x
Photography: Eliza Logan Photography

Stylist: Styled by VA
HMU: Martin Lane Christopher & Kevin the Glam Tech
Models: Alyna, Evija, Linnea, Riley, Juliet, Maisie, Akira