OUR PORTRAIT SESSIONS ARE BACK!
Your daughter can star in her very own Tutu Du Monde photo shoot experience!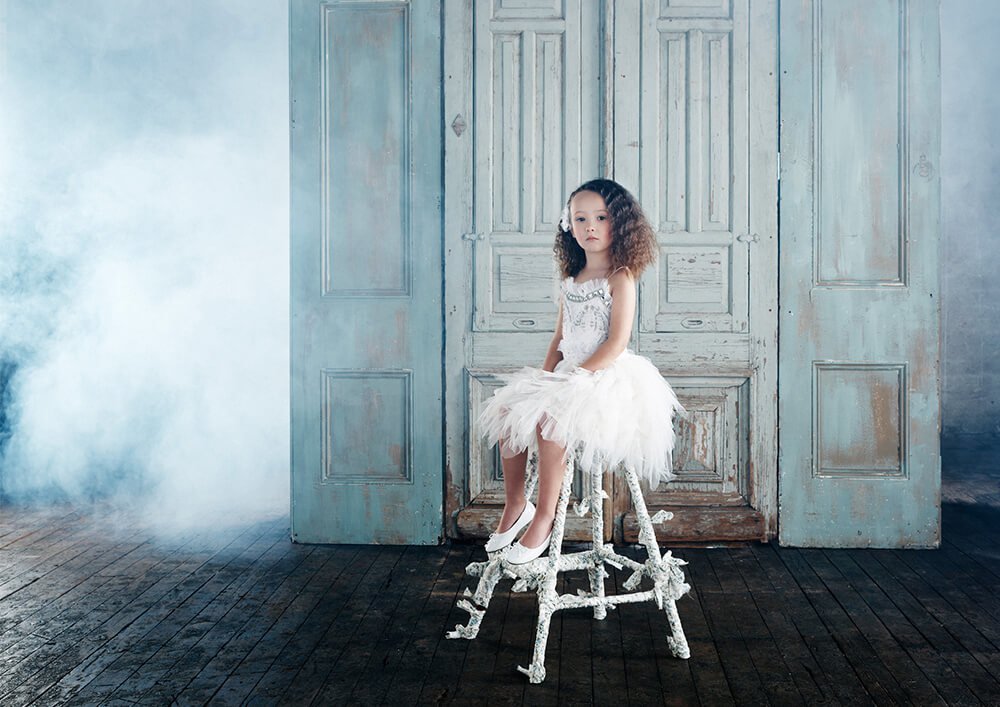 ENCORE: OUR FABULOUS PORTRAIT SESSIONS RETURN
Due to the popular demand of our last portrait sessions with talented children's photographer Camille Nuttall, we're thrilled to announce we are teaming up for another portrait sessions just in time for the holiday season. This is something for little girls who like to dream, have fun dressing up and express their unique personality in front of the camera!
The portrait sessions capture all the excitement and glamour of a Tutu Du Monde campaign shoot. Your child will get to experience all the fun of being on set, including professionally styled outfits from the latest Tutu Du Monde collection. Each package also includes a Tutu Du Monde outfit of your choice as a lovely memento to take home on the day.
Styled to perfection, the sessions will be very mystical and dreamlike to really spark your child's imagination. A warehouse style backdrop accentuated with vintage French props and a smoke machine will create a fantasy scene to really make your daughter shine. Its all about bringing the best out of your daughter and making sure she is natural behind the camera as most importantly nothing will be forced. You'll receive a stunning fine art print of the final photos which are a beautiful keepsake to capture your daughter during her childhood, something you will hold onto for many years to come.
There are two exciting package choices available for these portrait sessions and well known Sydney Hair and Make-up Artist Chris Coonrod and creative Stylist, Sheridan Davey will be on-set to make sure your little one is camera ready.
Your one on one viewing session will offer you the ability to view your favourite images together, look at possible cropping and combination ideas together and talk about what will work best in regard to finishing and presentation options for you. These sessions will be available over the shoot weekend and early into the following week. Once your booking is made you will be contacted directly to arrange your viewing session time.
The Tutu du Monde Swan Lake Collection ($299, valued at $514)
Includes one Tutu du Monde dress of your choice from the latest collection (up to $175 retail value) and one 8x10" matted fine art print ready to frame.
The Tutu du Monde Nutcracker Collection ($475, valued at $827)
Includes a dress (up to $175 retail value), a cape, shrug or cardi (up to $159 retail value), and a headband (up to $35 retail value) from the new collection, as well as two 8x10" matted fine art prints ready to frame.
Sessions are limited and will fill fast, so don't miss your chance to capture your little girl in an entirely different light!
For bookings and any queries contact Camille: [email protected] or 0410 432 757
Portrait session dates:
November 7th and 8th
Sydney Props Photo Studio
Marrickville, Sydney
Andrea and the Tutu team