Delight your little one with a colour crazy rainbow birthday party! She'll be over the rainbow with joy this in this fantasy land of colour!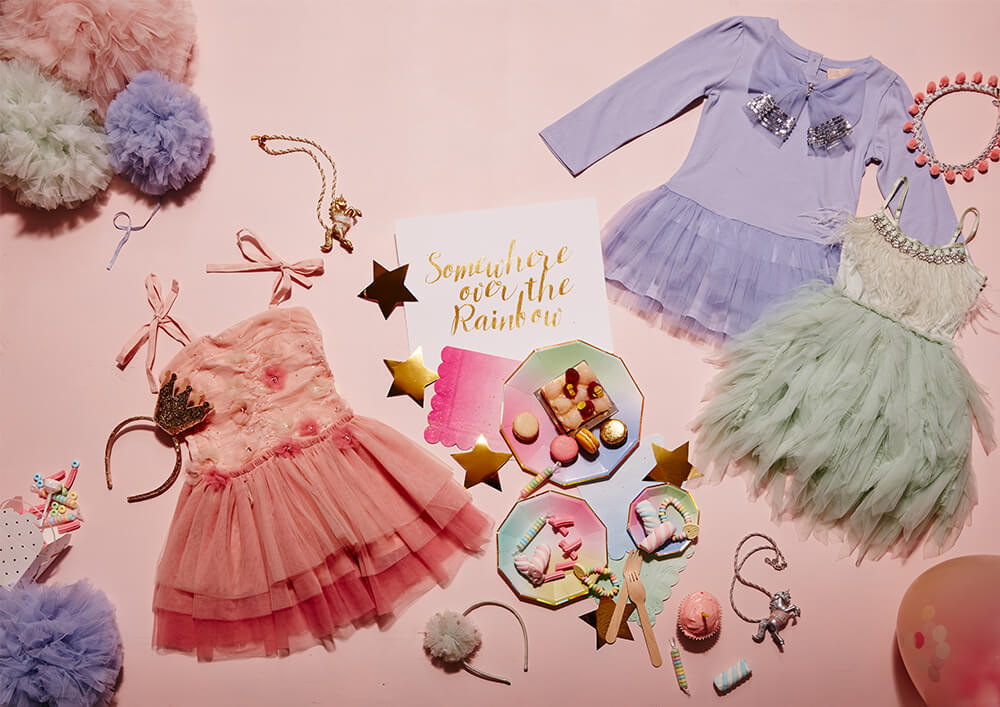 Over the Rainbow
For girls who like to express themselves with colour… she'll revel with happiness because she doesn't like to shy away, she's bold, she's colourful and not afraid to show it! A rainbow themed birthday bash is all about being a shining colour sensation (and centre of attention as every birthday girl should)! This party is all about FUN! You can easily add an extra touch of fantasy (little ones will love) by introducing magical creatures into the theme, think fairies, unicorns and pixies that will send imaginations running wild.
The Décor

The colours of the rainbow come alive in this multi-hued party do! First start with the table and work around this… keep it sweet with pastel tones, start with a softly coloured table cloth then add beautiful ombre plates and napkins. Make it multi layered with a mix of textures and colours, fluffy pom poms in an array of colours hanging from the ceiling or try a mix of rainbow balloons (with a few confetti balloons added for good measure). For a touch of glitter to bring it to life and keep it fresh, add a few gold stars or glitter metallic confetti dots!
The Birthday Girl

She'll be the best dressed birthday girl in an outfit made for fun and play! Don't be afraid to pair a pretty pastel pink dress with a pastel green headband or perhaps a lilac onesie with soft pink shoes and glittery socks, after all thoughtful colour clashing is what it's all about. An extra accessory is a pretty addition to the colour spectrum with a pink pom pom necklace or an enchanting unicorns pendant by Modern Queen Kids will make her feel extra special on her day!

The Entertainment
Anything that involves a little creativity and colour will be a hit, because its all about rainbows and expression! Avoid the mess and stress of paint crafts with a few more manageable ideas; rainbow chalk drawings outside (easily washed off), magical jelly bean guessing game and a fun-fetti candy filled piñata that is always a party hit.

The Menu
Dreamy sweets that fit this colour crazy pastel theme are ideal… rainbow iced cupcakes, candy necklaces, swirly soft marshmallows, pink musk sticks, fruit sticks, multi coloured macarons or take it to the next level with a layered rainbow cake! Whatever those little ones are munching on it should be colourful and pretty to go perfectly on your rainbow plates and keep little ones inspired all afternoon! Don't forget to fill those party bags with an array of sweets to take home.
Andrea and the Tutu team