UNDER A SPELL HALLOWEEN COLLECTION
Ghosts and goblins.. Skeletons too.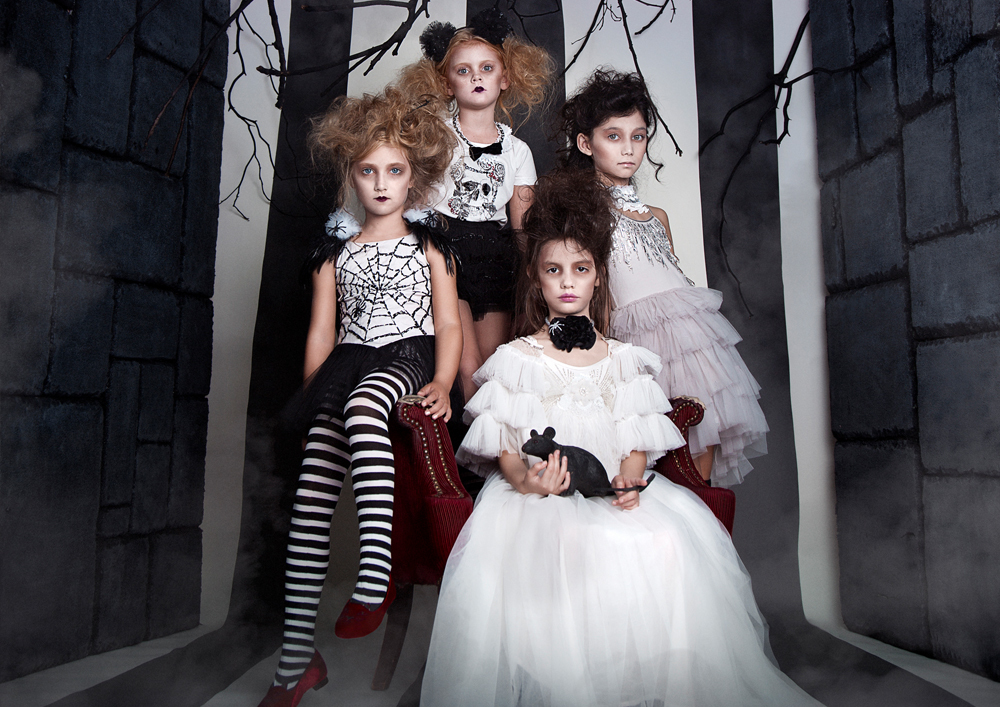 UNDER A SPELL
With Halloween fast approaching, it seems crazy that it was nearly 6 months ago that we photographed this Halloween campaign that on one of our trips to the US (there have been a few in the last 12 months).
It certainly seemed to be the perfect opportunity to shoot a Halloween campaign, where better to do this than in the spiritual home of Halloween.
Surely only a team of Americans could understand the seriousness required for the occasion – even though of course we're doing our best here in Australia to catch up to this particular peculiar tradition.
A very clever team of set designers, makeup artist and of course photographer and stylist were called in to rise to the challenge.
So, after some weeks of preparation on a very hot and sunny day – not so much your typical gloomy Halloween day, we set off early in the morning and made our way to downtown LA where a whole team of experts were already busy set up the backdrop of this Tim Burton inspired shoot.
Make up extraordinaire Marty gave all the mini models a make over of another kind - turning gorgeous cheery little girls into seriously scary looking otherworldly creatures…much so that my husband wouldn't even recognise his own daughter in the photos later on. I guess you could call that a job well done.
Sculls, skeletons, spider webs with creepy spiders, rats and other props were adopted by the girls like cuddly pets.
Our mini models – some had travelled from as far as New York for the occasion – certainly brought the shoot to life (or should I say death?)…killin' it!
The girls had a lot of fun (you would never guess looking at the images) they certainly got into character and there were a lot of giggles in make up as they slowly transformed.
Despite the untimely happening with Tutu du Monde putting on 'Halloween in May' most of girls insisted in keeping their make up on after the shoot ready to scare moms and dads and siblings.
Trick or treat!
Happy Halloween everyone.
PS: Oops, just snapped up the last size 12 'A beautiful Nightmare' dress for my daughter Alyna. The countdown is on in our house I dare say